Welcome to Van Dyk Memory Care

On behalf of the Van Dyk Family, we proudly introduce the first Van Dyk Health Care's Adult Day Care Center, located in Hawthorne, New Jersey.
Van Dyk Memory Care Center brings to its members the reputation and commitment of the Van Dyk quality of care and services for families and caregivers who are experiencing memory loss, dementia and other cognitive impairments.

As a family-owned company, we have always believed that finding solutions to better health and quality of life are what we were called to do.
The Adult Day Care is dedicated to individuals with dementia offering your loved one meaningful social stimulation, activities and meals while providing caregivers with a well-deserved break in the day to handle personal needs or simply relax.
Van Dyk Memory Care Center is grateful to have the opportunity to serve you and your family with the attention and respect you deserve. Thank you for choosing Van Dyk Memory Care Center where we are a "Family Caring for Family since 1953."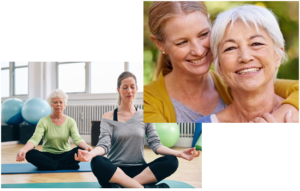 Delivering long term care, rehabilitation services, assisted living and home care solutions since 1953
Loved one continues to live at home
Comprehensive assessment of an individual's lifestyle, cognitive status and family history
Safe, secure and socially engaging family like environment
Dementia care expertise for assisting those with memory loss
Holistic approached programs reaching the "Mind, Body and Soul"
"Stay connected during the day" with a mobile application providing real- time communication, photos, videos, and messages
Support groups for the whole family
What Do Day Care Members Love About Us?

Provides a safe and secure setting
Maintain independence and self- esteem
Creates routines and social interaction
Participate in meaningful and beneficial activities
Two meals included in daily rate
Reminiscence Therapy
Brain fit exercises
What Do Family Caregivers Love About Us?

Avoid family burnout
Provide family support and peace of mind during the day
Reduce time away from work so family member can continue to work
Provide personal time for the family caregiver
Reduce anxiety and depression of the family caregiver
Receive recommendations for home solutions with activity, nutrition and safety concerns
Community resources and referrals to families
Family and community education
Van Dyks was there for me when I needed them the most.  Their staff is always so caring and reliable.  It was almost as if they were an extension of my own family. Mary J.
People just don't realize the burden of being a caregiver until you're actually experiencing it.  Van Dyks helped ease that burden for me while improving my mom's overall cognitive health. Bradley T.